Forget about boring 360 ° tours. We have taken the virtual walkthrough to a higher level. We created a real reality. With the help of a simple touch control, the client walks through the entire construction, just like in a computer game, but in much more realistic graphics. Give him the opportunity to discover and look for ideal solutions.
Download and try our Interactive walkthrough…
The customer can view anything. Equipment, surroundings, but for example free apartments in a residential complex and can immediately decide to buy. You can also allow him to change whatever he wants immediately. Does he want another door? Other windows? Another furniture or bathroom? Everything will change right away, without waiting.
Let people know the property in an innovative way, and you will see that they will decide to buy sooner.
GEO data
We model the environment using GEO data. It is therefore the most possible representation of reality in the virtual world.

INTERESTING SURROUNDINGS SELLS
Show customers the area. People want to know how close shops, playgrounds, kindergartens and schools are. Where they go to work, or they want to see where they can go for a walk. They can choose directly from the list in the menu, or just look around the country and find what interests them.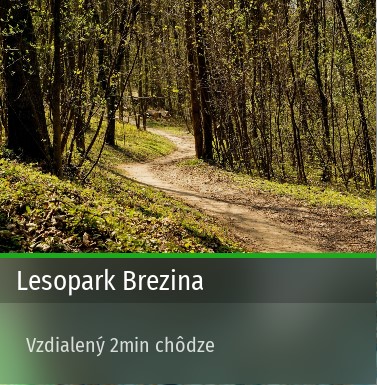 filter available apartments
You can filter between any parameters such as living space, budget, number of rooms, apartment orientation and its availability.
apartment detail
We can model each apartment in top quality, down to the smallest detail. The customer can immediately see how he will live. Of course, we can display the size of the living space, price and other parameters. There is also a gallery that contains interior design in the form of pictures or videos.
Also it is possible to quickly go to a virtual tour from the "Apartment detail". It can be controlled directly on the touch screen. It can also be connected directly to virtual reality, where the customer can immediately switch, for example, between all possible variants of the standard.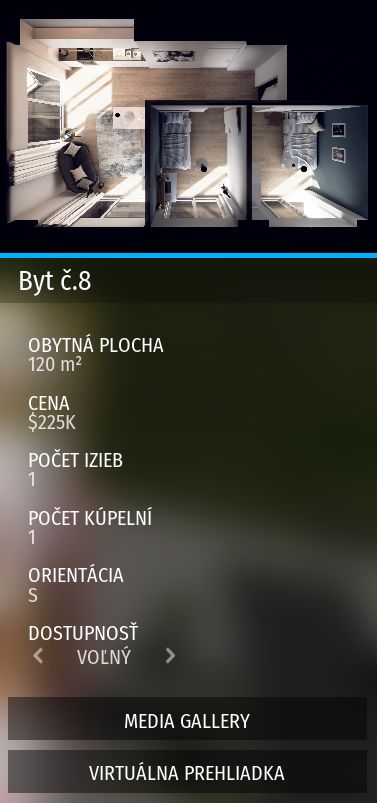 PROJECTS WITH INTERACTIVE APPLICATIONS